Well tonight was the fourth episode to this first season of Pretty Little Liars. And I must say it definately is staying true to the orginal novel series. I hope it continues this way but there is a chance that it might diverage for better drama just like True Blood that started out similar and went in a somewhat different approach.
But tonight was entertaining as the girls are still getting harassed by texts about A. They try desperately to get rid of A's presence on this episode but of course fail at the objective. Of course it all comes back to haunt them as a sign is posted in red lipstick on a mirror that states, "It won't be that easy bitches".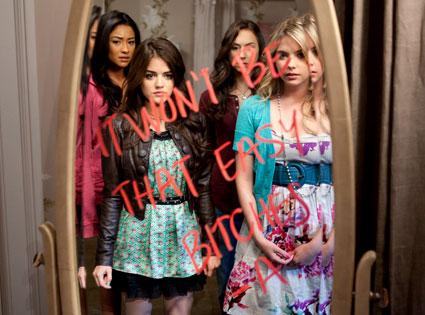 It hasn't been my favorite episode so far. But then again the season is just starting out. There was suspense tonight as a break in occurs and of course the girls are great to watch as they play the dumb ditsy teenage girl roles. Well not all of them. The show started out a lot similar to the casting of Gossip Girl] meets Desperate Housewives but I am starting to see other aspects completely different.
I hope the drama keeps up in the future episodes.