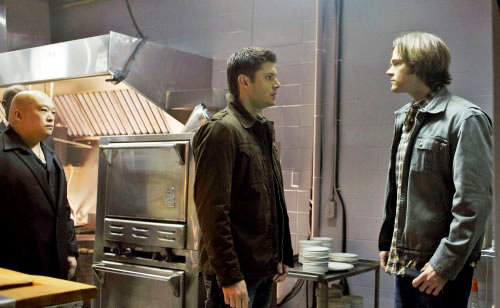 After the stellar "Point of No Return" last week, any episode would have a hard time measuring up, but it doesn't help that "Hammer of the Gods" is so uneven. The idea of gods from other belief systems joining together to stop the Judeo-Christian Apocalypse is a fascinating one, but in the end the concept falls apart a bit. Considering the fact that the gods spend a lot of time arguing that they are just as important as the angels, it is ironic that what is far more compelling in the episode is the return of Gabriel and Lucifer.
Dean and Sam are appropriately horrified to find that they are trapped with a bunch of gods who see them as bargaining chips to use with Michael and Lucifer. Their attempts to save themselves and the other people in the hotel run the gamut from trying to sneak away, to Dean giving a bravado filled speech that actually seems to do the trick. The reason this part of the episode flows smoothly is that Jensen Ackles and Jared Padalecki are well versed in straddling the line of heavy drama mixed with touches of comedy.
To Read More Click Here.