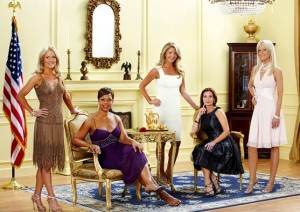 Guilty? Or Not Guilty? That was the question that was woefully avoided during last night's Real Housewives of D.C. finale AND the Watch What Happens Live! After Show.
The Salahis said that the truth would come out when the episode aired, and it did. They weren't invited to the White House, they didn't have an invite proving otherwise, and they are bona fide certifiable to the nearest institution that will commit them. After pouring over the emails that would allegedly clear them of any wrong doing, my unborn niece could see that they were never promised tickets to the State Dinner, but were offered to partake in the Arrival Ceremony IF even those tickets were available. The Salahis' argument was that they were invited to the State Dinner, which one email from Michelle Jones, who lost her job due to the mess, was closed for a long time. Or in Cat Ommanney's accurate phrase that will be shouted in next week's reunion show, NFI - Not Effing Invited!''
To Read More Click Here.