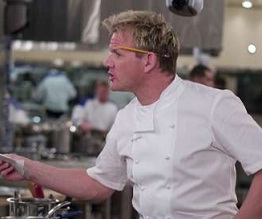 Tonight was a hell raising night on Hell's Kitchen and the competition has kicked into high gear and alliances are forming and individuals are getting singled out! I thouroughly enjoyed tonight's episode from Ramsay screaming, to teams getting kicked out, to an allergic reaction to cleaning products.
But tonight we say good bye to Scott according to him he was the best chef on his team as he went up against every member of his team. Not too smart Scott because when it came to you being up for elimination, you were sent packing, along with your cocky attitude. But the rest of the episode was great. The red team kept getting tons of orders sent back and Ramsay finally had enough, he kicked them out. And the individuals tonight at dinner service happened to be family, parents, and children.
Fran was up to her own self again singling out Nikita, not a smart move. And Autumn seemed to do a great job with her sauces tonight. Regardless the red team is in serious need of help. Will they be able to redeem themselves in the upcoming episodes? Guess we will have to see.