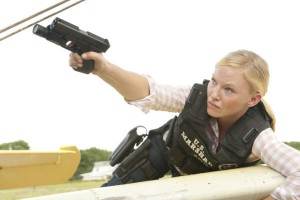 This week, the U.S. Marshals are hunting down a white collar fugitive. Where are Matt Bomer and Tim DeKay when you need them? Not here, so it's Eddie Cibrian (CSI: Miami, Third Watch) instead, to join the pursuit and – because it always happens eventually on television – make eyes at Annie Frost.
The perp is Adam Rothschild (at least according to how it's displayed, but every time someone says his name, they seem to drop the "s"), who smashed a guy's face into a bathroom sink and took off running when his trial went severely south. Our heroes start by searching a very swanky building where Rothschild was known to keep his mistress – and getting stuck in an elevator with muzak and Marco shooting off random statistics. I think that's the first time I've honestly laughed at anything on this show. Once they get off the elevator, however, it's all business, because Adam's wife is hiding in the closet.
To Read More Click Here.