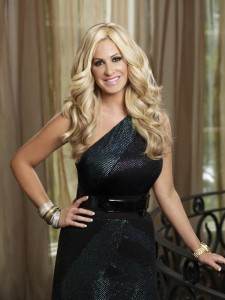 Dwight, your stock has plummeted.
The saga of Dwight Eubanks's fall from the good graces of The Real Housewives of Atlanta continued tonight as Sheree Whitfield got her chance to interrogate the former "Sixth Housewife of Atlanta" about the $30,000 he allegedly loaned Sheree for her fashion show last year. Dwight even brought his publicist to the "sit down" with Sheree, but the guy served more as backup for Dwight's claims, just in case Sheree got a little froggy.
After talking with NeNe last week, you would think Dwight wouldn't have a problem with Sheree. Wrong. Sheree didn't let up, because there wasn't a connection to be salvaged between the two. Plus, add in Dwight's claims of spending a lot of money on the seamstress he brought in ($1200) and the promotional fliers and posters (undisclosed amount, but it couldn't have been close to even $500) for the event, and Sheree drove right through those arguments in full speed. As I still think Dwight did come out his pocket for Sheree's fashion show, I don't think it was $30,000 worth of trouble. Despite Dwight offering his services to the planning of her show, Sheree should've still had someone working alongside of Dwight so she could avoid this fracas in the first place. It's like Michael Knight's words of wisdom didn't click with Sheree at all when he told her to be hands on with her 'infant' fashion career. Who's the winner in this bout? The betting (and common sense) man in me says Sheree is the clear victor, but it's something about this scenario that doesn't sit right with me at all.
To Read More Click Here.