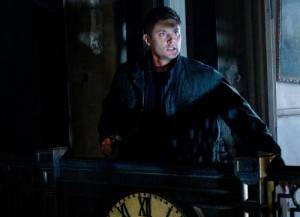 I'm not going to apologize for this, but I don't like Twilight.  There are so many reasons I could give as to why, but I'm not really ready to incur more wrath from the more expressive Twilight fans than I already have (I've written some articles in the past about this).  So the fact that Supernatural is taking a shot at Twilight?  AWESOME.
It is with great pleasure, then, that I present you with two sneak peeks from the upcoming October 22 new episode of Supernatural (and, yes, Dean, the fact that he's watching her sleep is kind of rapey).  Despite the apparently seriousness of the promo we posted late last week, the first sneak peek makes me cackle with absolute glee at the vampire memorabilia decorating this young girl's room, as well as Sam and Dean's reaction to it.  The second sneak peek shows in the boys chasing some vampires in a club. 
To Read More Click Here.