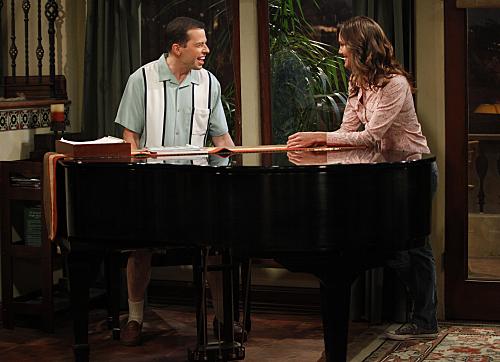 It's actually amazing it's taken Alan eight seasons of Two and a Half Men to pretend to be Charlie during one of his brothers' many weekend getaways.  We definitely thought this little sleaze would have pulled that scam off years ago.
While Charlie pretended to go to Vegas, he actually ended up getting plastic surgery.  Highlights from his little adventure included a scary appearance by a chemical-peeled Evelyn and the fun little twist at the beginning when we genuinely thought he was in Vegas with a whore.  First time?  Really?  We admit it, we fell for it.
Alan, meanwhile, stole the episode with his ridiculous attempt to be Charlie.  We probably could have skipped the scenes with his physical comedy as he attempted to wrestle with his couch and then posed in various positions in his underwear on Charlies.  Except for the Hooker Bucks envelope.  That was key.
To Read More Click Here.