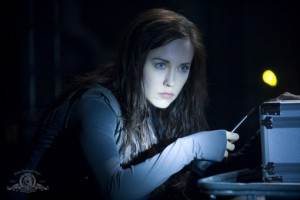 Last night's SGU was pretty damn… sporadic in some areas. What lacked in cohesion, made up in seed planting for future conflicts. And who doesn't love a nicely planted garden of potential story lines?
Where Am I?
Eli walks into the Console Room and finds Chloe standing over a console. When he calls her name, Chloe snaps out of a daze, claiming she had no clue of how she got there. Uh, huh.
Eli brings up this incident, along with other recent Chloe strangeness, to an already freaked out Lt. Scott who has no answers to give him, because Scott has already tried to find some on his own. Next, Eli starts to discuss the rapid healing of Chloe's gunshot wound, but is interrupted by Col. Young, who has bad news from home. Eli's mother, who is HIV positive, is deathly sick at home and he needs to use the communication stones to visit her. Damn…
To Read More Click Here.