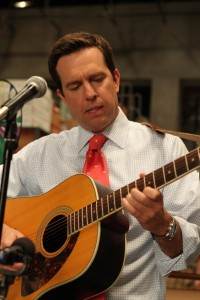 I've been waiting for this episode of The Office since it was announced that Timothy Olyphant would be guest-starring. Everyone knows that Olyphant is an amazing dramatic actor (he was robbed of an Emmy nomination for his current role as Raylan Givens in Justified), but he's also a hilarious comedic actor. He's been brilliant in guest spots on My Name Is Earl and Samantha Who? (not to mention a great little film called High Life that made me hurt myself laughing), so I was excited to see him at Dunder Mifflin.
Olyphant plays Danny, a rival who "steals more clients from Dunder Mifflin than anyone," according to Dwight, who adds that Danny slept with Pam. Jim confronts her with this information, and she says they didn't, but does reveal that they went on a few dates four years ago. Off Jim's annoyed reaction, she has the perfect comeback: "You do know I have a kid with you, right?"
To Read More Click Here.