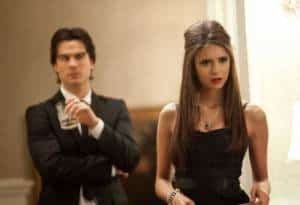 Well, last night was quite the rollar coaster for The Vampire Diaries, wasn't it?.  First we learned that Jenna had been under Katherine's control and tried to kill herself and then we found out that Katherine has compelled Matt to give his life so Tyler can kill him and become a werewolf.  Yowza!
The CW has released two very sexy promos for the upcoming October 28 episode, featuring the Mystic Fall residents at a masquerade ball.  Katherine will be back in fine form, but the Salvatore brothers are obviously on the warpath.  The promos are below, as well as a sneak peek for the new episode.
To Read More Click Here.