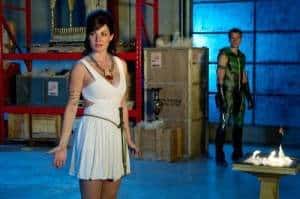 Nothing can top last weeks episode.
The cast/crew of Smallville knew this. And I'd also wager they knew that sometimes the best way to follow up a blockbuster epic is with a low-key episode dealing with thematic constructs geared towards allowing the supporting actors room to shine that they were denied with the 'Lois & Clark' centric Homecoming.
So if last week focused on Lois and Clark, this week saw fit to give Tess and Oliver some much needed prime material. While they don't overshadow Lois & Clark's story of a tragic romance, the screen time allows them (and us) a revised understanding of the complex Tollie relationship. We also see the return of Cat Grant, which proves to be both a positive and a negative part of this story.
To Read More Click Here.