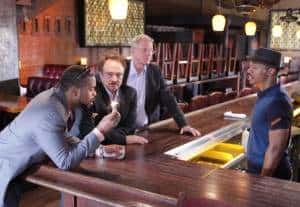 Last week, we met Dan's former partner. This week, The Good Guys evens things out by introducing Jack's uncle – who just so happens to be a con man. He's also played by Ed Begley, Jr. This ought to be interesting. Especially since he's breaking into Jack's apartment.
Fourteen hours earlier, Jack is enjoying the newly refurbished Dallas PD squadroom, but Dan isn't so happy. The two of them meet the new lab assistant, Samantha, when she accidentally hits Jack with the fridge door. Both of them are a little weirded out by her. After that, Jack gets home to find his uncle Nate on his couch, saying that he believes he witnessed an arsonist in action. Oh, and he just so happens to have an outstanding warrant. Jack is not forgiving, and arrests Nate on the spot. So much for the family reunion.
To Read More Click Here.