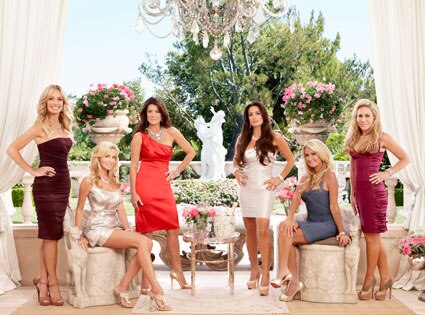 Looks alone do not a real housewife make. You also gotta have cash, and you gotta be willing to spend it! So which of the ladies of Bravo's Real Housewives of Beverly Hills consumes the most conspicuously?
The ladies of RHOBH all brandish giant diamonds in the promos for the show, but which among them looks to be (or behave) the richest?
Is it Adrienne Maloof-Nassif, whose family owns a casino and a sports team? Is it Camille Donatacci Grammer, whose (soon-to-be-ex) husband starred in two of the most successful syndicated sitcoms of the last 30 years? Maybe it's Lisa VanderPump-Todd, who gives generously to her friends and enjoys ordering frivolities like Louboutin cake? Or could the spendiest Beverly Hills lady be Taylor Armstrong, who's married a venture capitalist, or perhaps Kyle Richards Umansky, whose husband deals in real estate, or maybe it's Kim Richards, who started earning money as a child actress when she was just a toddler, and bought a Porsche on her 18th birthday with her earnings?