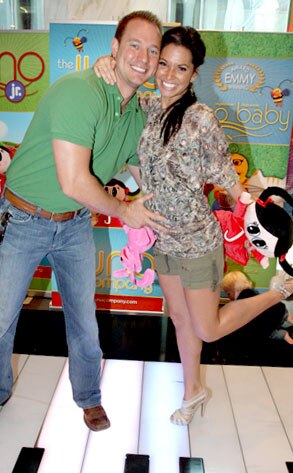 T he world is expecting another wee bachelorette.
Melissa Rycroft revealed Wednesday that the firstborn she and hubby Tye Strickland are expecting this February is going to be a girl.
In your face, Julie Chen!
"If you looked ugly I would say you were having a girl, because people believe a girl drains the woman of her beauty," Chen mused today during Rycroft's appearance on The Talk, as she and her fellow cohosts offered the Good Morning America correspondent a few baby gifts.
"But because you look beautiful, I'm going to say you're having a boy and I'm going to give you the blue teddy bear."
Sarah Gilbert and Leah Remini, however, fell into Team Pink as they handed over a powder-pink robe and blanket.
"Well, of the gifts in my lap, I think I'm going to take home...the pink," Rycroft said, holding up everything but the Chenbear.