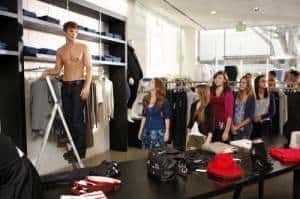 This season of 90210 is shaping up to be the best yet and despite my qualms about how they handled the HIV storyline, the show came back from it's hiatus in top-notch form.
Scarred Brothers
What in God's name could those scars on both Liam and Charlie's backs represent? Obviously, they were from their sordid childhood, but what caused them? Were they made by an accident or by the hand of a family member? Whichever it is, I can't wait to see how it all pans out.
When we found out how twisted Charlie's plays are as Annie snuck into a reading of his latest work, I immediately had a flashback to season two and got scared. Like she said, I thought she had attracted another Jasper when some of Charlie's lines were read from his play. After some thinking, I came to the conclusion that Charlie is using his writing to vent his anger and violent nature. It would make a perfect therapeutic exercise, and show the kid knows how to handle his issues. Hopefully, my conclusion is right.
To Read More Click Here.