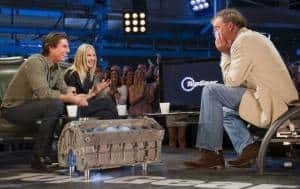 If you're not sure what Top Gear is, all you need to know is that the show's official description takes pride in being "one of the most illegally downloaded shows on the Internet." The motoring show is that irreverent. It's also charming, occasionally controversial, and always wildly fun. That's why 60 Minutes featured it last night, calling it one of "the most popular television programs on the planet." I'm more than happy to fill the void in TVO coverage and bring you the vehicular mayhem.
The Features
We're treated to a review of the Bugatti Veyron Super Sport. I'm not much of a car geek, but I'll admit that the Veyron is one of my dream cars. Most of us will never be able to afford one, but watching one in action is a beautiful thing. Captain Slow himself, James May, hosts the piece, in which he tells us the Veyron was no longer the fastest car in the world (second to the Shelby Aero) so the Germans made a new Veyron. Yep, that sounds about right.
To Read More Click Here.