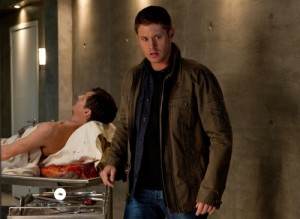 If you watched last week's episode of Supernatural, then you know something is seriously wrong with Sam.  On the October 29 new episode, we are hopefully going to get closer to understanding what's going on with Sam.  Dean, no longer a vampire and deeply suspicious of his brother, seeks help from both Bobby and Cas to discover what's going on.  When people are cursed with having to tell the truth, he also demands answers from Sam himself.
The CW has released a sneak peek.  It looks like Dean is back to dealing with stress with his old proven methods – drinking excessively, making threats and being broody.
To Read More Click Here.