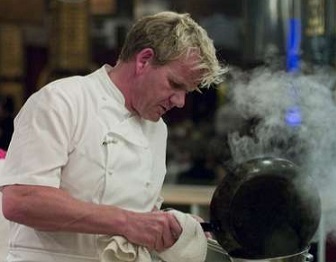 Tonight was yet another two hour double episode of Hell's Kitchen and two chef's were sent packing. I will be reviewing each hour seperately and this particular review will be focused on the second hour of tonight's show.
The first challenge in the second half had to deal with huge 10 pound lobsters and everyone was asked to create their own creative dish. World class Chef's were also accompanying Chef Ramsay on the judging. In order to even things out, one person from the Red Team needs to step out of the challange and Nilkla offers and agrees that hers is the weakest. Not something I would want to admit to Ramsay. Tie Breaker yet again, no surprise there, Holli saves the day for the Red Team since her dish was by far the best out of both teams. Possible season winner?? Could very well be if she keeps this up.
The pressure was on for dinner service since the patrons all were heading to the theatre in two and a half hours. Niklia falls apart, dropping things on the floor and getting kicked out of the kitchen by Ramsay. She did end up returning however, to plead for her return to compete but Ramsay states to the other Chef's to make sure she leaves.
Ramsay still makes the them nominate two people, but does he send one home? No, he just messed with them. It looked like Nikila took the pressure off by falling apart. All in all it was a highly entertaining second half of the show.