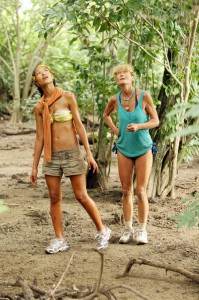 This week's episode of Survivor begins at the Espada tribe after their Tribal Council.  Dan thanks the tribe for keeping him, but Chase confesses that it may not have been the best move.  It's going to be a "hard pill to swallow" if Dan costs them a challenge.  Dan, however, is not the next target.  Chase tells NaOnka and Holly that Alina has to go next.  NaOnka agrees, saying that Alina has eyes that just burn through a person, so she can't be trusted.  Over at La Flor, all Marty can say is, "Wow!"  Jill says they would have voted however Sash's alliance wanted if he had just told them.  Marty tells the camera that it took huge balls to pull the move he did (not playing the Hidden Immunity Idol), but something told him not to use it.  He tells Jill that he is absolutely seething about Jane voting for him.
So the next day, he approaches her about her vote.  He tells Jane that he has 1) never lied to her; 2) never voted for her; and 3) never offered her name for the vote.  Jane says that she had no clue that Kelly B was the target, but Marty doesn't believe her.  He begins to leave, but suggests that he knows Jane voted for him.  Jane has no response other than nervous laughter.  After Marty tells Jill about his conversation with Jane, she says that although she and Marty in a bad place, they need to get Jane out next.  Planning Jane's ouster will have to wait, though, because it's time for the…
To Read More Click Here.