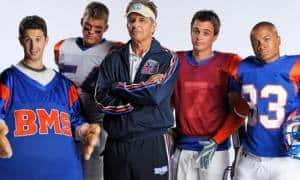 Here we go again. As if last week's controversy wasn't enough, this week Blue Mountain State tackles religion…and Denise Richards.
Alex is still trying to chaperone Radon, who has his eye on Mary Jo, who's still attached to Alex. Meanwhile, Coach Daniels' angry ex-wife (played delightfully by Richards) thinks it's a good idea to rehabilitate the team's image by scheduling a charity game between BMS and a local church team. Of course, our heroes would rather be drinking, except for Radon, who tells a story about how he burned down his neighbor's house when he was ten. I swear, he's a closet psychopath.
Much to Alex's horror, Radon sets up a date with Mary Jo, and when Alex tries to put a stop to it, she assumes that he's jealous. Then again, she might be just as crazy as Radon. The two of them probably deserve each other, and if they managed to somehow self-destruct together, Alex's life would be a lot easier. Then again, if that happened, we wouldn't be treated to Darin Brooks' excellent expressions of complete horror. Half the fun of watching this show is watching his reactions to everyone else's insane behavior.
To Read More Click Here.