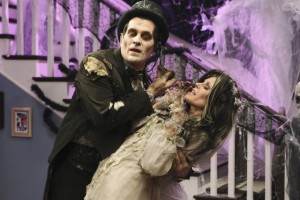 Modern Family is, of course, an ensemble show, and most of its episodes to date go to sometimes painstaking lengths to make sure each of the three family units is treated equally in terms of screen time, emphasis and laughs.  Every now and again, however, an episode really lets one of the cast members shine, such as Phil in "Game Changer" or Cameron in "Fizbo."  This week's episode, "Halloween," was really a showcase for Julie Bowen's Claire, who, in my opinion, had her funniest performance to date.
The episode, unsurprisingly, revolved around Halloween, but was ostensibly about feeling different and being an outsider even within one's own family or workplace.  Mitchell was caught in a costume at work when he thought that was his new firm's tradition, only to discover it was only him and the two guys he over heard talking about their costumes, Cameron hasn't liked Halloween since he was traumatized as a ten year old, Gloria's thick accent brought her ridicule from Jay, and Phil worried that if he wasn't more attentive, Claire would want to divorce him like their neighbors.
To Read More Click Here.