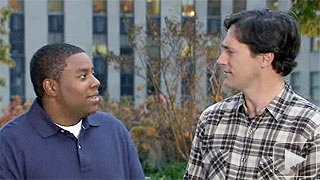 For a change, Jon Hamm takes "Saturday Night Live" outdoor in the promo for his third hosting this weekend, October 30. Given the air date, the "Mad Men" star is expected to be involved in a number of Halloween-related sketches. Hamm will be accompanied this weekend by musical guest Rihanna.
The promo is divided into three. The first one sees Kenan Thompson getting the fact wrong about how many times Hamm has been on the show. The second sees Thompson changing his name to Kenan Swiss in attempt to make the "Hamm and Swiss" joke. The last one involves Hamm dashing quickly to propose with diamond ring.
To Read More Click Here.