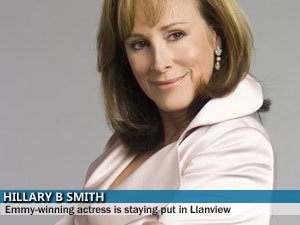 There won't be a coma comeback. Emmy-winning One Life to Live star Hillary B. Smith (Nora Buchanan) has inked another contract with the ABC soap. Smith has been a contract player on One Life to Live since September 1992.
The quiet negotiations are a stark contrast to Smith's past two contract talks. In January 2006, Smith made headlines by announcing that she had almost exited the show. Her character had been in a coma for months, and the Internet was abuzz with rumors that Nora wouldn't pull through. However, during what the actress called a "goodbye chat," she and ABC Daytime President Brian Frons had a "wonderful conversation" that opened the door to additional negotiations. Smith offered to sign a one-year contract to allow the show to prove it had an "interest in writing for Nora."
To Read More Click Here.