Tonight was a two hour double elimination episode of Hell's Kitchen. And two Chefs were asked to take off their jackets. I have already reviewed the second half of the show so this particular review will focus on the first hour of the show.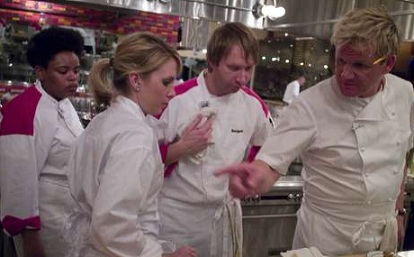 The infamous blind taste test was brought out at the beginning of tonight's show. And it was pretty clear that not a lot of them are good at it when Ramsay gets them to taste a dish they all fell in love with that happened to be a microwave dinner. I almost fell off my chair laughing. Let me start by saying, "Oh Fran!" Fran mistakes Brussells sprouts for cabbage, thinks pork is roast beef, sweet potatoes are carrots, and coconut is potato. But it didn't end there. The Blue Team ended up winning the challenge and all received a VIP pass to Sea World.
Well it seemed that Ramsay was in an extra tense mood tonight as his yelling seemed to definately escalate. The teams were under a lot more pressure tonight during this particular dinner service when they were asked for their creative input for the menu. The Blue Team starts off horribly and can not seem to catch up with the Red. But the communication in the Red is pretty much nill which will almost everytime end up in disaster.
Nomination time, and each team has to nominate one person. Surprised that Fran was nominated and up on the chopping block yet again? Well tonight ladies and gentlemen it was the end of the road for her. She has been at the bottom every week prior it was inevitable she was going to be eliminated at any time. I will however miss her personality in the kitchen.