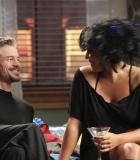 We were expecting some resolution on several stories, but last night's Grey's Anatomy, "That's Me Trying," seemed to leave even more up in the air. What does the future hold?
Next week, heavier security measures than ever are put into place as a team of doctors, led by Chief Webber, attempt to save the life of a political figure from the Middle East.
Cristina decides to throw a housewarming party, and Alex shows up late from a weekend away to his first day of rounds with the new Pediatrics Attending, Dr. Phil Stark.
Here's ABC's first promo for "Something's Gotta Give" ...