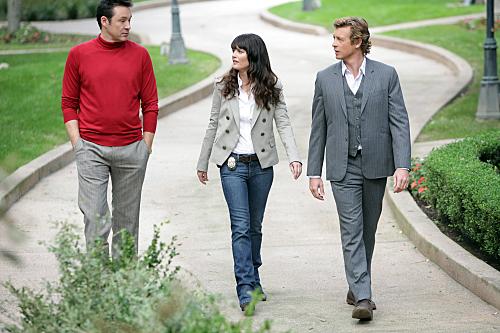 I never saw the end of "Red Hot" coming.  I really thought that Lisbon would continue to blow off Walter.  He may be rich, handsome, and charming, but as Lisbon pointed out, he is also egotistical, arrogant, and entitled.
I liked that Walter seemed really taken aback when he found the bullet hole on Lisbon's shirt and the reality set in for him that someone could get hurt. I also enjoyed their flirty banter throughout the episode.  And, as much as the Jane/Lisbon fans may disagree with me, I'm glad that Lisbon and Walter ended up together.
Lisbon deserves a little fun and Walter seems like the man to give that to her.  Do I think this is a long-term relationship?  Probably not.  But I also don't think Jane is anywhere near ready for a relationship with anyone, even Lisbon.
That said, being Walter's girlfriend may have its risks. "My girlfriends are all mad by the time we break up," he said.
To Read More ClicK here.