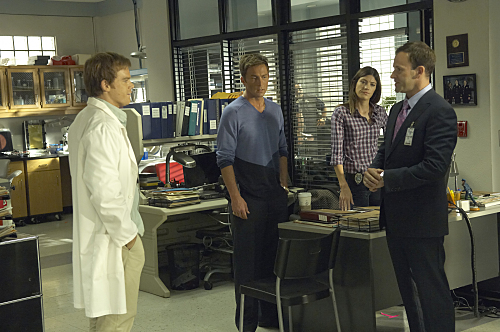 Dexter's two worlds collide when Deb and the team start searching for the same people that he and Lumen are hunting for. Meanwhile, the homicide division is even closer to capturing the Santa Muerte killers.
Dexter asks Lumen to try to remember any significant details that would help him track down the other men involved in her capture. She says she remembers two more guys: Watch Guy and Suit Guy. Watch Guy, would always put his watch up to her ear while she was blindfolded and whisper, "Tick, tick tick. That's the sound of your life running out." Then Suit Guy would take his jacket off and carefully fold it after taking her blindfold off. Lumen says she wants to be a part of finding and bringing them down, but Dexter isn't too keen on it.
All the while, a well-dressed man — obviously Suit Guy — pulls up to the swamp where Boyd dumped his victims. The man has a handful of workers gather up all the body-filled barrels. He drives away with the barrels in back, and the next thing you know, Suit Guy gets blindsided by a drunk driver. Formaldehyde-soaked bodies are all over the road, and the driver of the truck is nowhere to be found.
Deb gets called in while at Quinn's place, but she makes it clear to him she wants to keep their relationship under wraps. Oddly enough, though, Quinn is ready to buy a new place with her. He's pretty hot-to-trot, no?
To Read More Click Here.