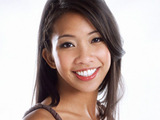 Well it looks like we are saying goodbye to the girl that just will not give up! Alexie was sent home this week, the first one to be eliminated in this year's So You Think You Can Dance competition. And it is so bittersweet. You got to give any person props for trying out four times and never quite giving up. This show is notorious for returnees making it to the end so you can't blame the girl for trying.
But this year has so many obscenely talented contestants it was not too painful to watch her go home. The night before we saw all 11 compete and Alex Wong is still dancing in my brain from such a captivating contemporary performance, it literally took my breath away. But it looks that this season the males may just be stronger then the girls since all three that landed in the bottom during this elimination night were female.
This year the all-stars are competing with the contestants and at first I was somewhat hesitant that they might steal the show. But they have proved me wrong, if anything it has made the performances much more entertaining and memorable. So as we enter next week with the top 10, I am assuming the stronger key dancers will start pulling ahead of the pack. But right now it is anyone's game.