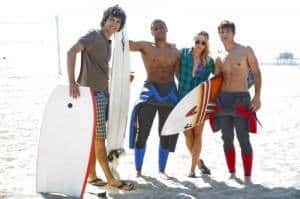 It's sweeps period, but you wouldn't know it on tonight's episode of 90210. Is that a bad thing? I guess it depends on who you ask. The episode wasn't bad by any means, but I wasn't wowed as I was with the previous entries this season. I blame my massive headache at the moment.
Navid's Wake Up Call
While I vehemently despise Mr. Shirazi for hiring underage girls for his films, I kind of wanted to hit Navid in the mouth tonight for his condescending nature at times. A part of me feels as if Navid should've known about his father's shady dealings in porn (come on, it's porn!) from gate, but the other part is saying 'not so fast' in the judgmental department. I was a bit peeved when Navid talked down to the high school student/porn star tonight, because she was right in terms of him having no clue about getting a job at the Beverly Center. It's kind of hard to come off as a humbling and good natured person when your riding around school in a red Lamborghini to the hottest events in the city, and you want to tell someone where they should be working? That argument would easily be shut down by anyone, no matter what their immoral occupation might be. It was a wake up call for our moral compass of the group, but Navid might've opened up a whole can of drama by telling his guidance counselor his father's business. Can Navid make it without the perks he's had all his life? Well, he better learn how, because his father is going down when the cops get a hold of him.
To Read More Click Here.