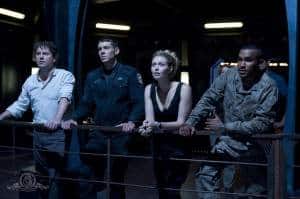 Two words about tonight's SGU... Game. Changer. The long awaited reveal went down and my popcorn bowl was filled by the time the ringside bell sounded. Also, Simeon really worked my nerves, but it's Robert Knepper so we knew he would be trouble in the long run...
Col. Young, TJ, Camile, and Lt. Scott all have a meeting about Ginn and her intel on the Lucian Alliance. They feel that the best way to act on this intel is to have Ginn switch with someone from SGC so she can talk to the officials back home. Col. Young okays this move. When Camile goes to inform Ginn of this development, she's a bit amused to find Ginn a bit frazzled in her bunk with Eli's shirt on her bed. ELI!!! Get 'em!!!
To Read More Click here.