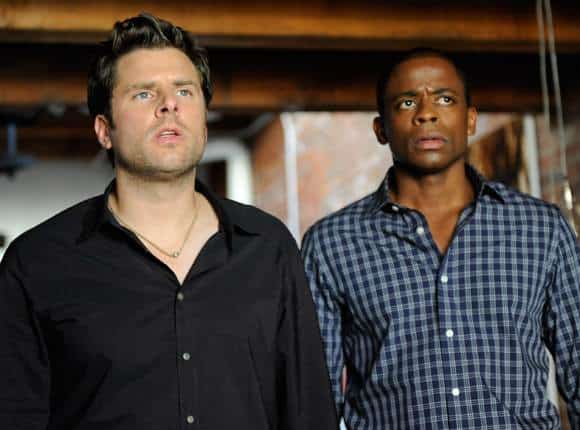 Psych is back! And so is everyone's favourite super-polite British art thief, Pierre Despereaux (Cary Elwes). We last saw Despereaux in 4.01 "Extradition: British Columbia", finally being caught by Shawn and co. Now Despereaux is in a Canadian prison, though it's not long before he escapes and returns to the art theft game -- but when a dead body is found at the crime scene it's up to Shawn and Gus to somehow prove Despereaux is innocent of murder.
I found Psych's triumphant return to be lacking in laughs, but it was still just as enjoyable as ever. Shawn and Despereaux have such a great relationship, and it's always refreshing when Shawn comes up against someone that can better him on a regular basis. But being such a plot heavy episode, with lots of twists, turns, and lots of angst for Shawn, the episode didn't have as much room for the usual Psych banter between the main cast. Juliet and Lassiter were barely in the episode (and didn't share any dialogue with each other), there was only one scene with Henry, one scene at the Psych offices, one scene at the SBPD (and no Chief Vick, though we did get a funny scene with Shawn and Buzz McNab), and no young-Shawn flashback.
To Read More Click Here.