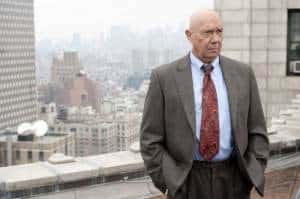 Dana Lewis (Marcia Gay Harden) arrives at Benson's apartment late one night to drop off a rape kit that she doesn't want to turn over to the FBI. When Benson asks who the victim is, Dana replies that it's her. Benson brings in Stabler to help her investigate this delicate situation, but Dana's being less than cooperative because she's still undercover for the FBI and if the rape is connected to one of her open cases, then she's not willing to blow her cover.
She capitulates and brings them to her very swanky apartment (her husband and children are out of town), where the rape took place. She agrees to take them into the field with her - which is at Ground Zero, where a group is protesting building a mosque. Dana ditches them and the detectives pursue them and call in some help from state troopers. They eventually find the van Dana was in, except now it's torched and the driver is dead. The SVU squad notices a connection between Dana's group and the Sovereign Citizen's Brigade, an anti-government group. They decide to investigate the group in order to track down Dana. They meet up with her again after an FBI raid at the group's headquarters, where everyone is now dead except for Dana.
To Read More Click Here.