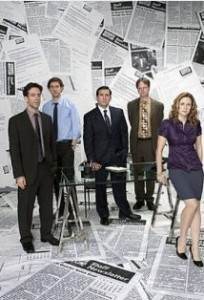 Some of the best episodes in the history of The Office have come, ironically, outside the Dunder Mifflin building.  So did "Viewing Party" make that list?
Strangely, everything about 7.08 worked except for its opening and end.  While I love the continuing concept of the Scranton Strangler, there wasn't really a funny line in the first sequence.  And the ending was just...weird.  The moment Michael (Steve Carell) started roleplaying as Erin's (Ellie Kemper) daddy, the show went a bit off the rails.  While its intended effect may have been an insight into the nature of their relationship, spelling it out like this came off as creepy.
With one exception, everything else about the episode worked.  In fact, this was one of the funniest of the season.  There's something about gathering the group in a different location that mixes things up and typically gives us a fresh look at the characters.  In this case, it was a way to see Gabe (Zach Woods) in a new light.  Unfortunately, this was also one of those episodes where Michael's insecurities grew particularly annoying rather than endearing.  There just wasn't enough here to justify his wounded ego except for jealousy and pettiness, so his childish antics weren't particularly funny or even interesting.
To Read More Click Here.