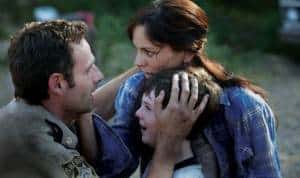 "Tell it to the Frogs" opens with Merle, still chained to the rooftop pipe, talking to himself. He's reminiscing about a fight he'd been in and suddenly loses it. He begins struggling again to free himself when he hears banging at the door. Several walkers have reached the roof and are now trying to break through the door that T-Dog had chained shut.
The group from Atlanta, with Rick driving, are continuing their trek back to the mountain camp. Morales tells Rick about Merle's brother, Daryl. He explains that Daryl won't be very happy about what they'd done to his brother.
Back at the camp, Shane is still playing father figure to Carl. He invites Carl to come with him to the quarry and learn how to catch frogs. In the distance, the survivors hear the alarm from Glenn's new ride. Glenn arrives with the alarm still blaring. The campers are happy to see him, but can definitely do without the alarm. Jim quickly silences the alarm.
To Read More Click Here.