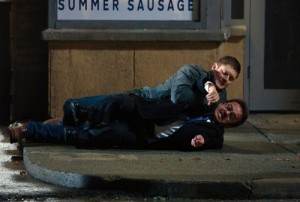 Remember when the brothers used to engage in witty banter?  Does it seem like that's been missing lately?  Well, have no fear, because it will return on the next new episode of Supernatural, airing on November 19!  Last night we posted a promo for the hilarious looking November 19 episode, where the boys are chasing what they think are aliens, until they discover that they're actually hunting fairies.
Now we have a sneak peek to share with you below.  This is classic Supernatural, except the roles seem to be reversed.  This time Sam is giving the waitress the "come hither" eyes and Dean is trying to talk to him about appropriate behavior.  The entire conversation between the brothers is amusing.  Sam's insistence that they should take time away from chasing aliens when they run out of leads to have a little fun with girls (because, it'll be in the dark!)?  So amusing.  But poor Dean, his only comeback are that souls lead to suffering and allow no fun.  It's both funny and sad.
To Read More Click Here.