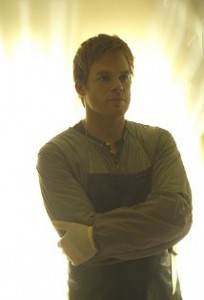 By far the best episode of the season, 5.08 finally pulled together all the pieces of this season's narrative into something cohesive and meaningful.
This was the first time I truly believed in Dexter's (Michael C. Hall) connection to Lumen (Julia Stiles).  This isn't the first time Dexter has let someone in on his killing methods, but it is the first time he's needed to.  Rita's death left Dexter out of touch with his primal side, his killer instincts unable to fill the shattered void.  But Lumen has given his dark passenger a new purpose, one that perhaps he's never had before: he's no longer killing to heal his own childhood wounds, he's doing it to heal someone else (as misguided and twisted as this may be).  He's finally becoming a more selfless psychopath.  Hooray!
For five years we've watched Dexter try desperately to connect to another human being.  Each time, he's either come up short, been betrayed, or suffered a horrible loss.  Can anyone live with the truth of what I am? Until now, that answer has been a resounding NO.  Lumen seems capable.  But Dexter is still making a terrible mistake in relying on someone else to make him whole.
To Read More Click Here.