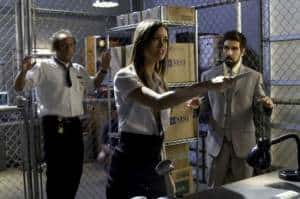 "Chuck vs the Fear of Death" begins in Castle with General Beckman berating Chuck for trusting Agent Frost, which was a major error.  Chuck apologizes: this never would have happened if Frost wasn't his mother.  The General agrees, hence, he hasn't been ejected from the CIA.  Beckman orders Sarah to pick up the trail of Frost and Volkoff in Istanbul while Chuck tries to recover the Intersect.  Casey, much to his chagrin, is ordered to shadow Chuck in Burbank.  Chuck ignores Casey's grunt of disapproval to ask if he heard the General correctly: the Intersect isn't gone?  Chuck can get it back?  General Beckman explains that it is believed the Intersect is just suppressed, and not taken from him, but she isn't sure.  She isn't a scientist, but Chuck will be meeting enough of those soon.
Cut to Chuck with a crew of scientists.  The lead scientist explains that the Intersect is really a catalog of memories, and currently, a psychological rock is sitting on top of those memories.  Their goal is to remove that rock, so they put Chuck through a number of experiments ranging from video of skaters getting hit in the nuts to Rorschach Tests to waterboarding to electric shocks.  After thirty-one days, none of the experiments have worked, unless Chuck passing out is the goal.
To Read More Click Here.