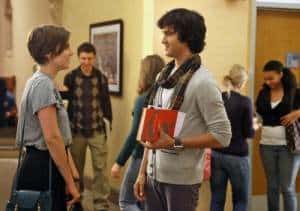 Last night's 90210 was brought to you by the word "forced." However, despite some "Are you serious?" moments, 90210 still kept up their winning streak of top notch episodes. This season has been so put together for me that all nuisances brought up in an episode are forgiven by the closing credits. To some extent...
Is Navid About To Go For Broke?
So Navid's father is hauling ass back to Iran and didn't bother to pack his family with him. Talk about being guilty as sin as well as a complete bastard. When Navid spilled the beans of his father's shady business deal to his counselor, I knew trouble was brewing for the Shirzi family. With that said, I didn't know the story line would take a left turn the way it did. So now with the bread maker of the family hightailing it back to their native country, does this mean the Shriazis will have to downsize as well? Now that would be an interesting story line... Things are about to get messy, people. but hey! Navid finally has a story line. So yeah!
To Read More Click Here.