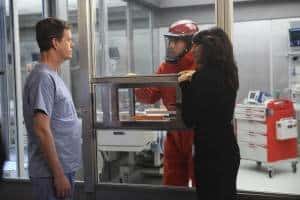 Finally!
After six borderline excruciating episodes, House is finally back on track. I was honestly about to lose my faith in this show, but they proved that they still got it. Because "A Pox on Our House?" was nothing short of amazing. It reminded me a little (okay, a lot) of ER's season 8 finale "Lockdown", which had basically the same case, but they managed to spin and turn and confuse our heads with that game of is-it-smallpox-or-not like masters.
This week's case presented a family who had gone scuba diving a few days before in the Bermudas. The daughter found an object on a sunken slave ship and when she brought it back to the surface, it broke and cut her hand. She started developing symptoms that looked a lot like smallpox. They isolate her, but soon dad starts showing symptoms as well, but much worse. They both deteriorate fast and it was a race against time to find out what was really killing them.
To Read More Click Here.