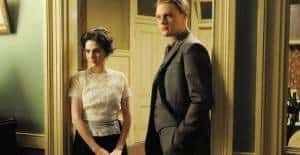 The blood that was spilled at the end of "Belle Femme" was that of an innocent, but it landed right where it belonged: on Margaret (Kelly Macdonald).
That's because Margaret's journey down the Yellow Brick Road of corruption took a decided turn for the worse in Boardwalk's ninth episode.  As she stumbled and faltered her way to learning the proper way to manipulate Nucky (Steve Buscemi), she had perhaps one of her most defining moments to date.  "My daughter didn't help you, I did," she says to Mme. Jeunet, finally cashing in on her own machinations.  The art of selfishness is not lost in Atlantic City but quickly found.  The continued brilliance of Margaret's evolution is that her tale is told mostly through the eyes: both hers and whoever she learns or takes from.  It's as if we can see her soul literally blackening from within.
To Read More Click Here.