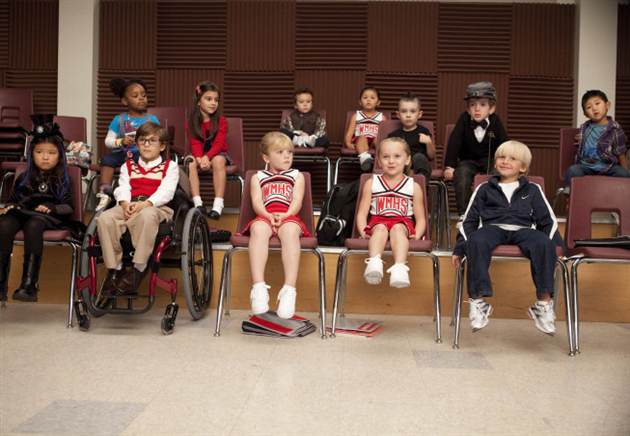 We know that Gwyneth Paltrow will be singing two songs during her Glee appearance, which will be airing on November 16 (view promo photos and some song previews).  Now, FOX has released the full version of Paltrow singing Cee-lo's "F**k You", except she's actually singing the clean version called "Forget You".  I don't know how you feel about the sneak peek below or about Gwyneth's guest appearance in general.  A lot of people seem to like her performance, while others aren't terribly fond of it.
In the second video, FOX takes us behind the scenes of Paltrow's other performance, a mash-up of "Umbrella" and "Singing the Rain".  If nothing else, the number looks cool with the twirling umbrellas and the rain coming down on everyone.  Finally, the third video is a behind the scenes sneak peek at the mini-gleeks that will be appearing in the November 16 episode.  Mr. Shue will be hallucinating the toddler versions of the glee club kids.  Aren't they adorable?
Don't miss an all new episode of Glee on November 16!
To Read More Click Here.