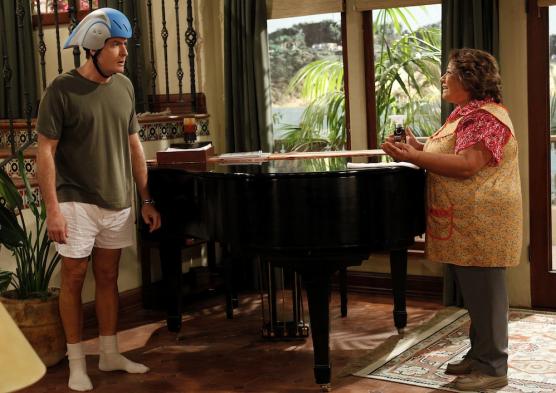 For such a real life addict, you would think Charlie Sheen could play a better drunk during last night's opening scene of Two and a Half Men.  It's not that the antics weren't funny.  The classic robbing of Uncle Charlie's cash and the bicycle helmet were hysterical.  But the ridiculous over-exaggerated method of acting drunk was much too distracting to let the jokes flow.
It's a shame, because the writing is so good on this show normally Charlie Sheen can just speak his lines and have us laugh.  Luckily, the drunken antics didn't extend past the intro and the rest of "A Good Time in Central Africa" more than made up for it.
For eight seasons, it's really been a mystery why Charlie keeps Berta.  She's an absolutely horrible housekeeper, steals his money and talks back to him.  But earlier this season, he admitted his love for her.  He loves the abuse.
To Read More Click Here.