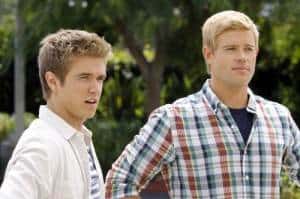 As the title of this episode might suggest, catching Mr. Cannon in the act proved to be impossible. Silver concocted a plan whereby she would lure Mr. Cannon to a hotel room with the ruse of working on her project and the story that her place was being fumigated. The girls set up a web cam to capture everything and Naomi and Adrianna were in the next room to stop whatever may happen. Unfortunately the only thing that happened was that Silver was confronted by Mr. Cannon, the principal, and the school therapist. Mr. Cannon is not stupid and could probably smell that set up a mile away. Of course he turned it on Silver who could not admit Naomi's rape. Although Mr. Cannon thinks he has won, I think this is only round one and he is in a world of trouble once the girls get it right.
Dixon is trying to deal with the fact that he could be HIV positive. He quickly and wisely gets tested and while he awaits the results, he blows off Ivy who is eager to have their special night together. Unfortunately, Oscar has other plans and slyly tells Ivy that he saw Dixon with Sasha the night of the auction even though Dixon told her he was sick. Around the time that Ivy confronts Dixon about Sasha, Dixon had just received a phone call that his tests results were back, but he had to come in to see the doctor. Fearing this meant he was HIV positive, Dixon tells Ivy that he still has feelings for Sasha. This sends Ivy right into the willing and waiting arms of Oscar. By the time Dixon's doctor corrects his assumptions, it is too late. So much for being a special moment, Ivy.
To Read More Click Here.