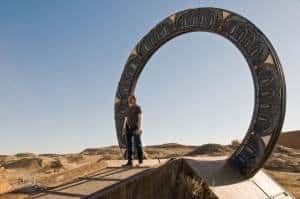 You read right, dear readers. This week's Stargate Universe recap is actually a review, because there is a lot to discuss after this mind blowing episode. While tonight's airing was actually my second time seeing it, it still held a dramatic punch and contrasted how far this makeshift crew of theDestiny has come along.
Love and Revenge
Tonight we saw the loss of Ginn (Julie McNiven) as well as the loss of Dr. Amanda Perry (Kathleen Munroe) at the hands of Simeon (Robert Knepper). This tragic double death sent both Dr. Rush and Eli into a state of vengeance, which governed their actions (or in Eli's case wannabe actions) aboard and off the Destiny. In my personal opinion, Rush had the most logical reason for a breakdown than Eli did, because there was a history between Rush and Dr. Perry that extended pre-Desitny days. Eli had only known Ginn for a couple of days, maybe a week or two, depending on the time lapse on the show. If Ginn had have been Chloe, then I would understand the extent of Eli's anger. With that being said, I'm not suggesting Eli shouldn't have been upset at all, but the extent of his vengeance over someone he barely knew was a bit much to me. Gladly, Young talked some sense into him, but that talk still didn't stop Eli from acting like a kid.
To Read More Click Here.