Tonight was another two hour episode of Hell's Kitchen. And it wasn't dull for a moment as the tension grew on both teams, and the Red Team trying desperately to regain composure after many previous losses.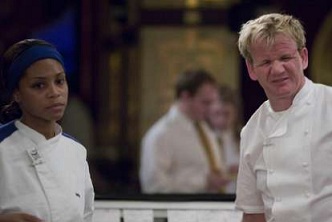 This review is going to focus on the second half of the show tonight. The first half I will review seperately. But I thoroughly enjoyed the second more then the first.
The contestants were asked by Ramsay to meet him in one of the oldest restaurants in LA, Philippe. They all get to try the famous Beef Dip Sandwhich and as their challange, they must create a gourmet sandwich that compares to the caliber of the one they just ate. What a difficult task considering they are tasting one of the best sandwiches in the world. The poor red team was asked to eliminate their worst dish so they had an even chance. Shibohan was voted and the challange began. I had to laugh at Fran who had soggy bread and justified it by saying that is the way the Italians like it. But in the end they needed Shibohan's dish as a tie breaker. The winner? The Blue Team after Ramsay declares he likes her dish over Fran's.
The Blue team got to party in Wine Country as their prize and come into the dinner service a little hung over. The dinner service did not go smoothly and one diner decided to come up to Ramsay and complain that his meat was rare when Ramsay cut loose on the guy. The words that poured out of his mouth. Raw chicken was almost sent out but luckily Ramsay caught it. In the end, Autumn, Ed, Shibohan, and Fran (again) is nominated for elimination. Shibohan is sent packing tonight. Which means Fran is still kicking in Hell's and I am starting to wonder if she is kept on for rating purposes or just plain luck. I guess we will see if she makes it through next week.