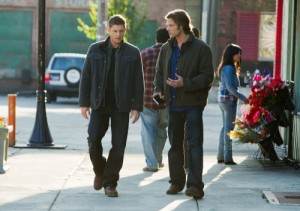 Last night we found out that Supernatural was going to give a big nod to The X-Files with the whole "alien abduction" storyline during the episode, as well as the awesome new opening credits.
Now we have the Space Channel trailer and sneak peek below.  While the sneak peek isn't terrible interesting, the trailer is actually pretty awesome.  It is much more X-Files than the CW promo was and it just makes the whole episode look hilarious.  I love how freaked out Dean is about getting "abducted".
To Read More Click Here.