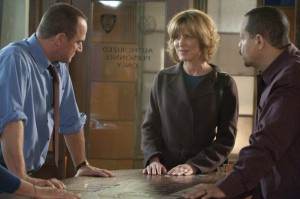 At a Take Back the Night rally hosted by Stabler's daughter, Kathleen, a woman (Bethany) accuses a man (Chuck Mills) of rape. Fortunately, Stabler's on hand to arrest Chuck. But the case turns out to be tricky. Bethany had been drunk at a party. She passed out and woke up to Chuck raping her. She reported it to the university and they brought Chuck in front of a university disciplinary committee. He got community service and a blemish on his record. ADA Sonya Paxton returns to do some probation with SVU in order to regain her position within the DA's office. The lack of conclusive evidence means she orders them to cut Chuck loose.
Kathleen feels guilty because she was supposed to be Bethany's sober buddy the night she was raped, but left Bethany for a short period of time. After getting information from his daughter, Benson and Stabler go to investigate the bar the girls were at that night and find Chuck hitting on another woman. A girl (Felicia) comes by to throw a pitcher of beer over his head and he pushes and injures her. When Felicia doesn't show up to officially press charges, Sonya orders Stabler to cut him loose yet again. Kathleen delivers Chuck's disciplinary committee file to her father, which one of her friends stole from her. This later becomes a sticking point because the file should be inadmissible if Stabler asked Kathleen to get it for him. Since he didn't, he and Benson use the information and find out that Felicia has been trying to expose Chuck as a murder. She believes he killed his girlfriend Carla's unborn baby (who was his baby as well).
To Read More Click Here.