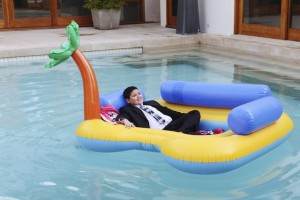 After last week's episode that I felt was rather disappointing, I was hoping to get a better Modern Family outing this week.  Let me say that not only was "Manny Get Your Gun" better than "Chirp," this may have been the best episode of the season so far.  True, the idea that "adults still act like children" is a well-trod one for sit-coms, but Modern Family's take on this theme felt fresh and was flat-out funny.
The set-up showed the whole family gathered for Manny's birthday dinner, but all upset for unknown reasons.  The action then flashed back to thirty minutes prior to dinner to play out how everyone became upset.  Now, I will fully admit to being a sucker for this plot device -- I like joining the action in medias res, then flashing back to find out how the scene came to be -- because it ads a bit of suspense and detective work to the proceedings.  Of course, in a sit-com, the "suspense," as it is, is derived from typical misunderstandings and missed connections, but for me, the joy of this framing device is I get to try to figure out what is the event that really completes the first scene.  Is it the humorously "bad" thing that's happening right now, or will something worse happen in a couple minutes?  The device makes me anticipate increasingly funny jokes more and more, and when a show like Modern Family can deliver on those jokes, I am fully content, as I was this week.
To Read More Click Here.