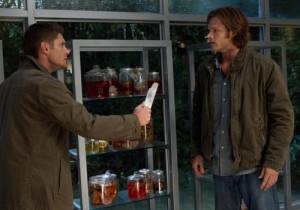 I know that something that's been bothering a lot of Supernatural fans lately (myself included) is the relationship between Sam and Dean. I don't think we'll ever see the close-knit brotherly relationship that existed between them for the first three seasons and then started to fall apart when Dean returned from Hell and Sam got mixed up with Ruby. Despite that, I think a lot of us held out some hope that the events towards the end of the fifth season would go some ways in repairing that relationship. Of course, that was until Sam jumped into Hell to save the world.
When he got out and he and Dean were finally reunited, we found ourselves with a vastly different Sam. We now have confirmation that he doesn't have a soul. He himself admitted that he doesn't care much about Dean, and Dean obviously feels uncomfortable around him. Their relationship has been strained, to say the very least.
To Read More Click Here.